The official site for the British 'A' Class Catamaran Association. Designed to inform new and existing 'A' Cat sailors about UK 'A' Class trends.
Whereas most other racing classes are one-design, the A-Class is a development class and as a result it has become the very pinnacle of the high-tech sailing boat. Many state-of-the-art design developments seen today in, for example, the latest Americas Cup racers, have been first developed and then applied to the 'A' Class cat.
Whilst being a relatively easy boat to actually sail. They are stable and not particularly prone to cartwheeling or 'pitch-polling' even in the strongest of winds, unless you do something really stupid. But the 'A' Class Catamaran is difficult to sail well, requiring many subtle tweaks and fine tuning to get it up to it's full potential. You can be sailing upwind and suddenly realize that everyone else is out-pointing you, for no apparent reason! A slight sail trim here, a small mast rotation there - it all has an effect, which is more noticeable because you are traveling faster. It suits people who like to fiddle and tune, but the feeling when you hit the sweet-spot is superb!
It is so responsive that it almost talks to you...... You just have to learn to listen.
Hardly any two 'A' Cats are the same. Each sailor likes to have things customized to
suit their own style. Transom or centre mainsheet, different downhaul and mast rotation systems, even rudder and daggerboard shapes can vary. You will see many different hull shapes. Until recently, the trend was for wave piercing bows and curved daggerboards which are thought to give an edge when sailing downwind. Now, J and Z shaped boards, together with T or L rudders allow skilled sailors to foil the boats downwind.
However, the actual hull shape has a lesser effect on the speed than having the correct rig setup. The mast and sail are designed to work together for a particular crew weight. Having the correct sail shape and mast stiffness for you is far more important than having the latest hull design. A smooth sailing style is also crucial, and with an all up minimum weight of 75kg, this is essential to maximizing your potential boatspeed.
So, if you are up for the challenge of the Formula One of the sailing boat world, drop us a line. We can then hopefully put you in touch with someone who can help, as the 'A' class 'scene' is a very friendly and helpful one!
Currently we have A cat sailors at the following clubs;
Thorpe Bay, Whitstable, Rutland, Grafham Water, Weston, Weymouth, Stokes Bay, Ullswater, Plymouth Mayflower, Eastbourne, Minis Bay, Bala, Largo Bay, Clacton,
Now you wouldn't want to die not knowing, would you?!
​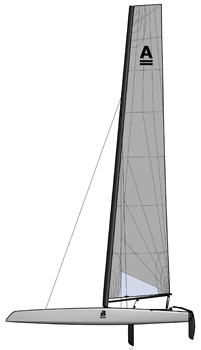 Following the cancelation of the Clacton 2022 Nationals, the Championship will now be held at the Grafham Cat Open 22-23rd Oct
If you are a UK registered, or based 'A' Cat sailor, we urge you to join the Class Association. As the number of entrants we are allowed for the World Champs is based on the registered class membership, we need everyone we can get, so we have a good representation at the Worlds and Europeans.
Thanks!